Traditional Braces – Buzzards Bay, MA
The Tried-and-True Path to Straighter Teeth
Straight, well-aligned teeth are attractive. Even more than that, though, they are important for oral health. They make it possible to enjoy a comfortable bite, and they are less likely to suffer from cavities and other oral health issues than misaligned teeth. If your teeth are not properly positioned, we encourage you to talk to us about our orthodontic treatment options. We may recommend that you get braces in Buzzards Bay. This tried-and-true teeth-straightening method has already helped generations of patients — it may be able to help you as well!
Why Choose Canal Side Family Dental for Traditional Braces?
1

On-Staff Orthodontist

2

Flexible Payment Options

3

Friendly and Empathetic Team
How Do Traditional Braces Work?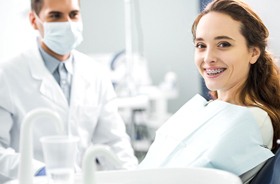 When you first get braces, we will bond brackets to your teeth. A wire will connect the brackets. Together, the brackets and wire will apply consistent, gentle pressure to the teeth. As your braces get tightened at periodic appointments, your teeth will move little by little into their proper positions.
Of course, not all braces treatments are exactly the same. Depending on your unique circumstances, you might require additional orthodontic accessories to achieve the best possible results. When you visit us for your consultation, your orthodontist or dentist in Buzzards Bay will be able to tell you more about the road ahead of you.
What Orthodontic Issues Can Braces Fix?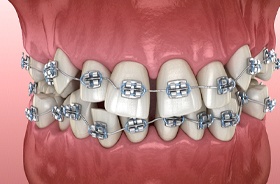 Traditional braces are among the most versatile forms of orthodontics in Buzzards Bay. They are capable of correcting most types of alignment issues, from mild aesthetic problems to severe orthodontic issues that pose a serious threat to oral health. We commonly use them to address bite misalignment, crowded and crooked teeth, and gapped teeth.
Bite Misalignment
Braces may be used to correct virtually any type of malocclusion (misaligned bite), including overbite, underbite, crossbite, and open bite. Correcting these issues can improve facial appearance, reduce the risk of TMD, and provide other benefits.
Crowded & Crooked Teeth
Crowded and crooked teeth are at an increased risk of cavities and breakage. Braces, along with possible extractions, can help to shift your teeth so they work harmoniously together and have the space they need to thrive.
Gapped Teeth
Large gaps between the teeth can leave your gums vulnerable to injury. Braces can move the teeth closer together and thereby improve your oral health.
Caring for Your Braces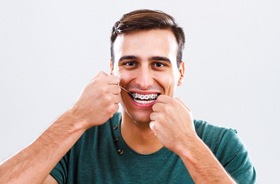 Here are a few basic tips to help you care well for your braces:
Prioritize oral hygiene. It is important that you clean beneath your arch wire and around your brackets. We will coach you on proper techniques that can help to keep your teeth clean and minimize the risk of cavities and staining.
Be mindful of what you eat. We recommend that braces patients avoid hard, sticky, and crunchy foods. These items may damage your brackets or wire. They can also get stuck around your braces and increase the risk of cavities.
Rely on us for help. If you ever have any questions or concerns regarding your braces, call our team right away. We are ready and willing to assist you!
Traditional Braces FAQS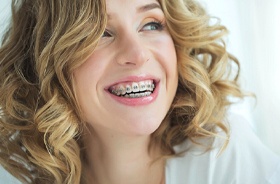 Our team is ready to help you straighten your teeth with traditional braces in Buzzards Bay. However, since this treatment represents a significant commitment of time and money, it is understandable if you want more information before you schedule your orthodontic consultation. Below, you will find answers to some frequently asked questions about braces. Give us a call if you would like additional explanation on anything you discover here.