Dentures – Buzzards Bay, MA
Reliable Tooth Replacement Solutions
Various circumstances, such as gum disease or dental trauma, may have robbed you of a number of your teeth. Perhaps you are even missing all of your teeth. In either case, we invite you to visit us for a restorative dentistry consultation. After we examine your mouth and talk to you about your oral health goals, we may recommend that you receive full, partial, or implant dentures. These reliable tooth replacement solutions have already helped countless patients in Buzzards Bay — they may be able to help you as well!
Why Choose Canal Side Family Dental for Dentures?
Experienced, Detail-Oriented Team
Treatment Customized for Each Unique Patient
Conventional and Implant Dentures Available
Who Is a Good Candidate for Dentures?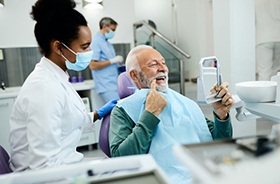 Dentures may be the perfect solution for you if:
You struggle with the life-altering effects of missing teeth, such as difficulty chewing, a lack of self-confidence, and speech problems.
Your remaining natural teeth are unhealthy and may soon need to be extracted.
Your tooth loss is somewhat extensive. (If you are only missing one or two teeth, dentures may not be appropriate for you.)
Your gums are relatively healthy.
You are looking for an efficient and reliable way to rebuild your smile.
Types of Dentures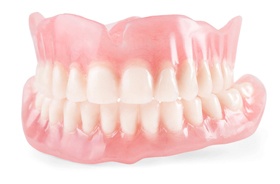 When you visit us for your consultation, we will carefully examine your mouth and learn about your goals for treatment. Depending on what we discover, we will recommend the type of prosthetic that best fits your situation. We might tell you that a partial denture, full denture, or implant denture would be a great way to restore your smile.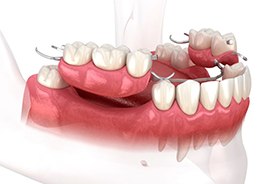 Partial Dentures
A traditional partial dentureis a one-piece prosthetic that can replace multiple teeth at various places throughout a dental arch. You can think of it sort of like a puzzle piece that fits in exactly where it is needed. Small metal or acrylic attachments help a partial denture to remain secure through eating and speaking.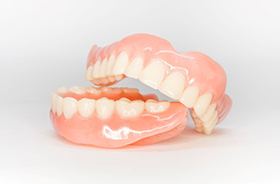 Full Dentures
A traditional full denture consists of a gum-colored acrylic base that is attached to a full arch of porcelain or acrylic teeth. Natural suction or a mild adhesive helps the denture to stay in place throughout the day. Dentures are always fitted to a patient's unique mouth so they fit snugly but comfortably.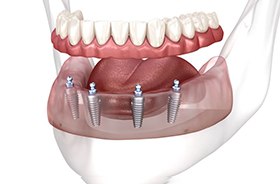 Implant Dentures
An implant denture does not rely on suction, adhesive, or metal clips to remain in the mouth. Rather, it is anchored in place by small titanium posts (dental implants) that act as substitutes for the roots of the missing teeth. We often recommend implant dentures as the best option for patients who are candidates for the procedure.
The Benefits of Dentures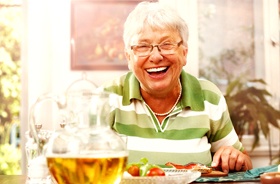 Dentures offer a number of outstanding advantages:
An expanded diet. Traditional dentures and partial dentures can restore your ability to eat a wide variety of foods. Implant dentures even function similarly to natural teeth.
A beautiful smile. Our team designs dentures based on each patient's unique orofacial structures with the goal of making the prosthetics as natural-looking as possible.
Longevity. Non-implant dentures typically last for at least 5 years, whereas implant-supported dentures can last for decades.
Easy care. It is neither complex nor time-consuming to keep a denture clean and fresh.
Affordability. Traditional dentures are a relatively inexpensive tooth replacement option. If you would like implant-supported tooth replacement, our team will help you explore resources that could help you afford your procedure.
What Is the Dentures Process?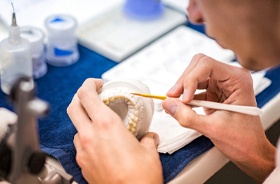 The exact process for creating traditional dentures varies from patient to patient. We may need to extract some of your remaining teeth and address existing oral health procedures before we provide your prosthetic. Once your mouth is ready, we will take detailed impressions and images of it and use those to design your new teeth. Then, a dental laboratory will create your prosthetic. After we provide you with your new teeth, we will educate you on how to adapt to using them so you can get as much out of them as possible.
The implant-retained dentures process is more complex and may take several months or longer to complete. Our dental implants page has more information about this remarkable treatment.
Would you like to learn more about how our team can restore your teeth with dentures? Contact us today to request a consultation.