Family Dentistry – Buzzards Bay, MA
Top-Tier Dental Care for Your Whole Household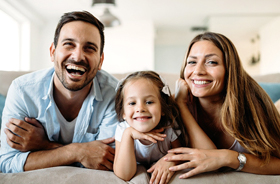 At Canal Side Family Dental, we're happy to welcome whole families as our patients. We enjoy establishing long-lasting, trusting relationships with folks of all ages and backgrounds. Moreover, our experience and skills enable us to provide high-quality care for everyone who comes into our office. On this page, you'll learn about the benefits of visiting a family dentist in Buzzards Bay. You'll also discover some of the services we offer that can help you and your entire household enjoy excellent oral health.
Why Choose Us as Your Family Dentist?
There are a number of benefits you can reap when you choose us as your family dentist:
We have evening and weekend appointments available to accommodate busy family schedules. It's unlikely that you'll have to miss school or work to attend regular dental visits. We are even willing to accept emergency patients on a same-day basis.
Our approach to dentistry is patient-focused. We always strive to create an environment where everyone, even young children, can feel relaxed.
Our team is great at explaining complex concepts to patients. We use intraoral cameras to help adults and kids alike gain a firsthand understanding of their oral health.
Family dental concerns. Some dental problems are hereditary in nature. If we notice that someone in your family is struggling with a particular issue, we can be extra diligent about detecting and/or preventing that same problem in other family members.
Set a good example. When your children see you visiting the same dentist as them, they'll be less likely to experience fear when their own turn in the big chair comes around.
Simple financial options. We're happy to work with most insurance plans. We also offer a dental savings plan, Essential Dental, for patients without insurance. The annual fee to cover your family with Essential Dental is only $189.
Family Dental Services
Preventive family dentistry in Buzzards Bay establishes the foundation for healthy smiles. That's why we encourage all of our patients, from young children to mature adults, to visit us at least once every six months. These routine cleanings and exams enable us to prevent dental decay and treat oral health problems while they are still in their early stages. We also offer fluoride treatments, dental sealants, and more to reduce our patients' risk of suffering from cavities.
In addition to preventive services, we also offer restorative care. Since people of any age can develop a cavity (even if they have excellent oral hygiene habits), we use tooth-colored fillings to address decay while it is still relatively minor. For advanced decay, we may have to perform more extensive procedures.
To learn more about the many dental treatments we offer, visit our services page.
Drs. Adelstein, and Mortelliti are all eager to help families in our community enjoy sound oral health. If you would like to get to know more about them and the services our team offers, contact Canal Side Family Dental today.