Dental Implants — Buzzards Bay, MA
Bring Back Missing Teeth for a Lifetime
Tooth loss is a problem faced by over 120 million Americans every day, and if this includes you, then you are probably well aware of the problems missing teeth can cause. Your food choices can become limited, speech can start to feel awkward, and feeling confident enough to smile is rare. If you are ready to finally have your complete smile back, then Canal Side Family Dental can give it to you with dental implants. To learn more about this revolutionary way to bring back missing teeth for a lifetime, keep reading or schedule your consultation today!
Why Choose Canal Side Family Dental For Dental Implants?
1

FREE Dental Implant Consultation

2

Dental Implant Placement & Restoration Completed Under One Roof

3

Essential Dental Plan & Flexible Financing Through CareCredit Available
What Are Dental Implants?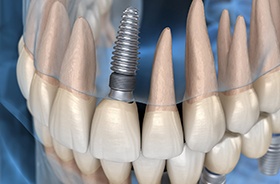 There are two parts to natural teeth. The part that you see when you smile is called the crown, while the portion hidden under the gums is called the roots. Traditional tooth loss solutions like dentures and dental bridges only bring back the crowns of missing teeth, leaving them far less stable, functional, and comfortable than home-grown pearly whites. Thankfully, dental implants are designed to replace the entire structure of a missing tooth for the most lifelike results!
A dental implant is a small titanium post. Once inserted into the jawbone where a missing tooth once was, the dental implant will fuse with the surrounding tissue. This effectively replaces the missing root structure and provides a strong foundation for the restoration it supports. Depending on how many teeth you are missing, this could be a custom-made crown, bridge, or denture. No matter how many teeth you are replacing with dental implants, the result is a smile that looks, feels, and functions just like natural!
The Dental Implant Process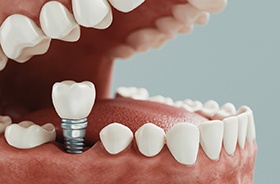 Unlike other dental offices in the area, we can complete the entire dental implant procedure in-office. Our periodontist, Dr. Cho, is a certified expert when it comes to placing dental implants, and he will ensure you will enjoy a pain-free process, smooth recovery, and precise results. Once you have healed from dental implant placement, our team can attach your new teeth to the prosthetic roots, bringing your smile back for a lifetime to come.
Benefits of Dental Implants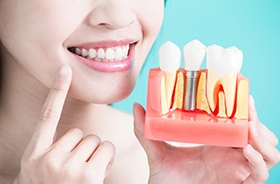 Modern dentistry offers a number of tooth replacement options. Each one boasts its own unique benefits. However, dental implants stand in a class all their own. They offer more and greater advantages than any alternative treatment. Keep reading to learn about some of the specific ways in which dental implants could improve your oral health, boost your confidence, and increase your overall quality of life.
Who Dental Implants Can Help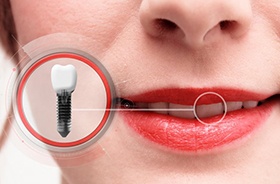 One important benefit of dental implants is their versatility. Whether you are missing a single tooth or a full arch, this state-of-the-art reconstructive service can be paired seamlessly with custom-made restorations and replenish the attractive, confident dental structure you need.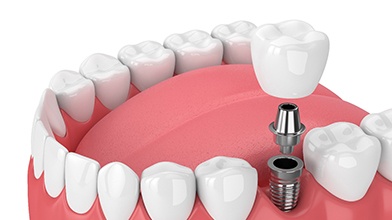 Missing 1 Tooth
For patients with a single gap in their smile, an implant-retained crown is highly recommended. A custom-made, all-porcelain crown can be attached directly to a single implant root to create something that is indistinguishable from a natural tooth. And, unlike other replacements, this tooth will not require support from the surrounding teeth and gums, making it a smart choice for your overall oral health.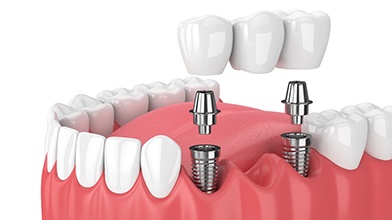 Missing Multiple Teeth
If a patient is missing more than one tooth in a row, replacing each one with an individual implant would likely be cost prohibitive. Fortunately, implants can also be used to support a strong and sturdy dental bridge. Two implant crowns are placed on either side of the missing teeth, and these are used to support prosthetic teeth to fill in the space. With this restoration, we can bring back full function to the smile while also preventing the remaining teeth from shifting out of place.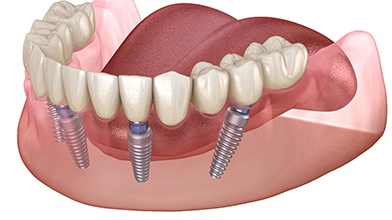 Missing All Teeth
Even patients who are missing all or most of their teeth can be good candidates for dental implants. Using a few strategically placed dental implants, we can secure a full denture directly to the jawbone just like real teeth. Compared to a traditional removable prosthetic, implant dentures have a superior hold, are guaranteed to last longer, and they even help a patient have a much stronger bite, enabling them to enjoy a more varied (and likely healthier) diet.
Understanding the Cost of Dental Implants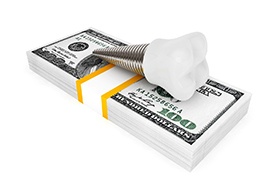 No two patients' needs are exactly alike, which is why we will not be able to provide confident pricing information about the cost of dental implants in Buzzards Bay until after your initial consultation. Rest assured, though, that your financial obligation will be laid out in clear, comprehensive terms before any actual procedures are scheduled. At first glance, dental implants can seem like a significant investment of time and money. However, we believe that the eventual benefits will meet your needs and easily exceed your expectations.