Dental Implants – Buzzards Bay, MA
Bring Back Missing Teeth for a Lifetime
Tooth loss is a problem faced by over 120 million Americans every day, and if this includes you, then you're probably well aware of the problems missing teeth can cause. Your food choices can become limited, speech can start to feel awkward, and feeling confident enough to smile just doesn't happen. If you're ready to finally have your complete smile back, then Canal Side Family Dental can give it to you with dental implants.
Why Choose Canal Side for Dental Implants?
1

Dental Implant Placement & Restoration In 1 Convenient Dental Office

2

Outstanding Aesthetics & Longevity – Enjoy New Teeth For Life!

3

Affordable, Low-Interest Payment Plans
The Benefits of Dental Implants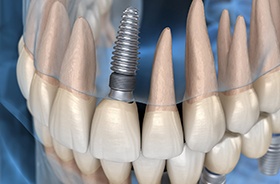 This state-of-the-art treatment goes beyond traditional restorations by bringing back the entire structure of a tooth both above and below the gum line. A sturdy, titanium root is placed directly into the jawbone, and this provides the foundation for a beautiful new tooth that shows within the smile. This modern method also successfully prevents bone deterioration, which is a constant worry following tooth loss and is typically the reason for why older patients' mouths can develop a "hunched" appearance as the years go by. Additional benefits of dental implants include:
Your new "teeth" will be virtually seamless from every angle, including aesthetic appearance, overall feel, and day-to-day function.
Dental implants don't require any overcomplicated maintenance routines – they can be cared for just as you would natural teeth.
The longevity of dental implants is truly unmatched! With proper maintenance, they can thrive for several decades or the rest of the patient's life.
Learn More About Benefits of Dental Implants
Indications for Dental Implants
One important benefit of dental implants is their versatility. Whether you're missing a single tooth or a full arch, this state-of-the-art reconstructive service can be paired seamlessly with custom-made restorations and replenish the attractive, confident dental structure you need.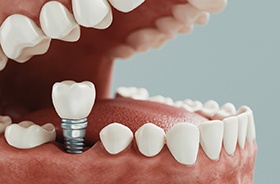 Missing One Tooth
For patients with a single gap in there smile, an implant-retained crown is highly recommended. A custom-made, all-porcelain crown can be attached directly to an implant root to create something that is indistinguishable from a natural tooth. And, unlike other replacements, this tooth won't require support from the surrounding teeth and gums, making it a smart choice for your overall oral health.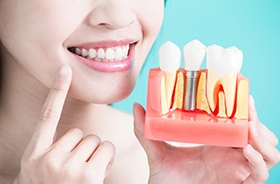 Missing Multiple Teeth
If a patient is missing more than one tooth in a row, replacing each one with an individual implant would likely be cost prohibitive. Fortunately, implants can also be used to support a strong and sturdy dental bridge. Two implant crowns are placed on either side of the missing teeth, and these are used to support prosthetic teeth to fill in the space. With this restoration, we can bring back full function to the smile while also preventing the remaining teeth from shifting out of place.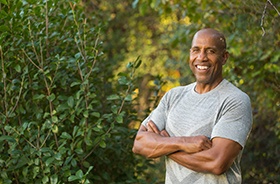 Missing All of Your Teeth
Even patients who are missing all or most of their teeth can be good candidates for dental implants. Using a few strategically placed roots, we can secure a denture directly to the jawbone just like real teeth. Compared to a traditional removable prosthetic, implant-dentures have a superior hold, are guaranteed to last longer, and they even help a patient have a much stronger bite, enabling them to enjoy a more varied (and likely healthier) diet.
Start to Finish Convenience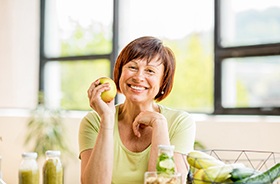 And, unlike other dental offices in the area, we can complete the entire procedure in-house. Our periodontist, Dr. Cho, is a certified expert when it comes to placing dental implants, and he'll ensure you'll enjoy a pain-free process and smooth recovery. Once you have healed from placement, our team can attach your new teeth to the prosthetic roots, bringing your smile back for a lifetime to come.
Dental implants are actually quite versatile and can reliably replace any number of missing teeth using the restorations detailed below. Which one is right for you? Our team can help you decide at a dental implant consultation.
Understanding the Cost of Dental Implants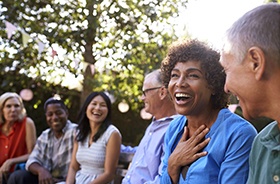 No two patients' needs are exactly alike, which is why we will not be able to provide confident pricing information about the cost of dental implants in Buzzards Bay until after your initial consultation. Rest assured, though, that your financial obligation will be laid out in clear, comprehensive terms before any actual procedures are scheduled. At first glance, dental implants can seem like a significant investment of time and money. However, we believe that the eventual benefits will meet your needs and easily exceed your expectations.