Preventive Dentistry – Buzzards Bay, MA
Enjoy A Beautiful, Problem-Free Smile!
At Canal Side Family Dental, we hate cavities just as much as our patients do, so we work hard to prevent them from ever popping up in the first place. We do so by providing a wide array of preventive services, all starting with routine checkups and cleanings. With regular appointments twice a year, we're able to catch and treat dental issues while they are still small and stop many before they even begin. If it's been more than six months since you or your child's last dental appointment, be sure to give us a call today.
Why Choose Canal Side for Preventive Dentistry?
1

Experienced, Dedicated Dentists

2

Children & Adults Welcome

3

Evening & Saturday Appointments
Dental Checkups & Teeth Cleanings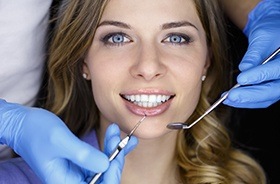 Checkups and cleanings are two of the most effective services we provide every day, and they help us learn all we can about a patient so we know the perfect way to care for their smile. Your dentist will start by closely examining your teeth, gums, jaw, bite, and existing dental restorations, keeping an eye out for any decay or damage. This will be followed up by a cleaning in which one of our hygienists will expertly remove plaque and tartar from your teeth and gums, making sure to target those areas your brush and floss can't reach at home.
Children's Dentistry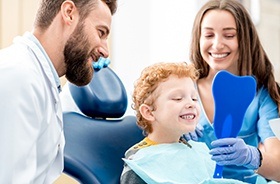 Our practice literally has "family" right in its name, which means all of your loved ones are always welcome through our doors. For your littlest smiles, we're ready to provide the safe and comfortable environment they need to feel completely relaxed in our office. We offer a number of kid-friendly services that are designed to stop tooth decay and ensure proper oral development, putting your child on the path to a lifetime of healthy smiles.
Dental Sealants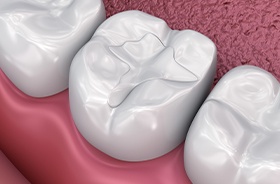 Did you know that the back teeth are the most susceptible to developing cavities? Their rough and pitted surfaces provide easy traps for plaque and bacteria that can lead to cavities, and they can be quite difficult to adequately clean while brushing as well (especially for young children). Thankfully, we can apply a protective sealant to these teeth in just a few minutes. We simply paint on a clear, plastic-based substance over the back teeth that quickly hardens into a thin, invisible barrier that cavity-causing factors cannot cross.
Nightguards for Bruxism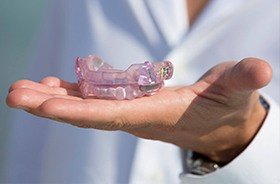 Teeth grinding during sleep is so common that dentists actually have a term for it: bruxism. It's a very common response to daily stress, and over time, it can cause severe damage to the teeth and even strain the jaw joint. To help patients rest easy, we can provide them with a nightguard, which is a small oral appliance worn to bed that places a protective barrier between the teeth to prevent any grinding.
Mouthguards / Sportsguards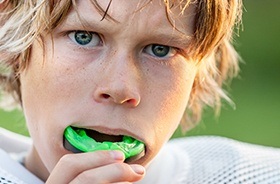 If you or your child regularly participate in sports that involve physical contact, it's crucial to protect smiles just as fervently as you would your head or knees from harm. At Canal Side Family Dental, we can design a brand-new, custom athletic mouthguard (also known as a "sportsguard") that keeps teeth, gums, and lips safe from accidental damage during the big game. Unlike a "one size fits all" oral appliance from the store, our designs are sturdier, more comfortable, and flexible enough to allow for easy breathing and speaking.
Oral Cancer Screening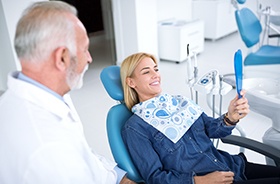 Oral cancer rates are currently on the rise here in the US, especially among young, relatively healthy people who don't use tobacco or drink excessively. Early detection and treatment are essential to successfully surviving the disease, but its initial symptoms can be very easy to miss. This is why our team performs a thorough oral cancer screening at every checkup. Should we find any signs of cancerous or precancerous tissues, we can arrange for a biopsy so a patient can get the care they need right away.
At-Home Hygiene Products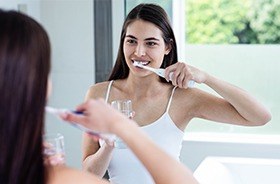 While routine professional checkups and cleanings are a crucial part of ongoing oral health, it's also important to maintain a strong hygiene routine at home. If you feel overwhelmed by all of the different choices for hygiene products (such as toothpastes, mouthwashes, and more), be sure to let our dentists and hygienists know! We'd be happy to provide high-quality recommendations for the whole family – in fact, you can find many of these same brands in our very own homes.
Fluoride Treatment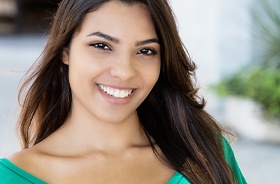 You'll find fluoride added to many kinds of toothpaste and public water sources because over the decades, regular exposure to this mineral has been shown to dramatically lower the occurrence of cavities. To give our patients a little bit of extra protection between appointments, we're happy to provide a fluoride treatment at regular checkups. We simply apply a fluoride varnish to the teeth for a few minutes, and it literally helps strengthen the enamel by replacing the minerals that have been lost due to plaque and acids, stopping tooth decay in its tracks.
TMJ Therapy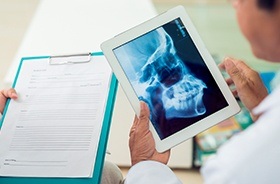 Has severe, chronic jaw and facial pain become a regular part of your routine? You don't have to live life this way; consider exploring dedicated TMJ therapy in Buzzards Bay, MA. TMJ disorder (also known as TMD) occurs when the temporomandibular joints, which control the movement of the jaw, experience strain, injury, or general dysfunction. There are methods available to restore long-term harmony to your oral structures, including customized oral appliances.
Sleep Apnea Treatment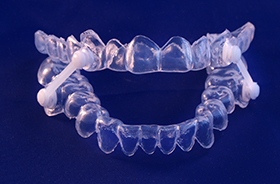 Many patients don't realize that a trained dentist can actually help them overcome mild to moderate sleep apnea symptoms – but it's true! If you've been recently diagnosed or have struggled with a traditional CPAP machine for years on end, our team would love to introduce you to the benefits of oral sleep appliance therapy. You'll simply wear a custom-made mouthguard that helps to position the jaw and/or tongue as you rest, preventing dangerous airway blockage and maintaining healthy, consistent breathing patterns.
Learn More About Sleep Apnea