Emergency Dentist — Buzzards Bay, MA
Get Urgent Dental Care Right Away
Just like any kind of emergency, dental emergencies never seem to happen when someone is prepared. No one really expects a knocked-out tooth or severe toothache to ruin their day, but it happens all the time here in Buzzards Bay. We understand that urgent situations require urgent care, so if you find yourself in the middle of a dental emergency, pick up the phone and give Canal Side Family Dental a call. We will work to see you as quickly as possible and get you out of pain right away!
Why Choose Canal Side Family Dental for Emergency Dental Care?
1

Modern Dental Technology for Maximum Comfort

2

Same-Day Emergency Appointments Available

3

Numerous Options to Make Emergency Dental Care Affordable
What to Do in a Dental Emergency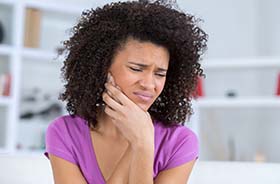 Although it may be easy to panic in a dental emergency, we encourage you to stay calm! Keeping a level head during these scary situations will help you act quickly and correctly when it matters most. Thankfully, having the experienced and compassionate dental team here at Canal Side Family Dental on your side during a dental emergency can make a world of difference. Should you encounter a dental emergency, follow these steps:
Give us a call right away so we can schedule your same-day appointment and give you first-aid instructions.
Come in for an emergency exam, likely within the same day you call us, so your Buzzards Bay emergency dentist can evaluate your situation right away.
Review the findings and make a plan with your dentist for getting your oral health back on track in a way that works best for you
Get urgent dental care right away thanks to our talented team and state-of-the-art technology. We will work quickly to relieve your pain and repair your teeth so you can get back to enjoying a healthy smile.
The Most Common Dental Emergencies
There are two major types of dental emergencies that patients should be on the lookout for. The first type is sudden and unexpected – physical accidents that may result in broken, fractured, or completely knocked-out teeth. The second type develops at a more gradual pace and occurs when tooth decay worsens over time, leading to a severe oral infection that is often better known as a "toothache." Dr. Peterson, Dr. Adelstein, and Dr. Mortelliti all have plenty of experience with both types of emergencies and will be able to assist you by relieving pain and providing restorative solutions. Here are some helpful tips for handling some of the most common dental emergencies.
Understanding the Cost of Dental Emergencies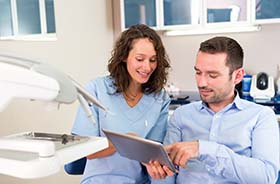 No two dental emergencies are like, and their costs can vary wildly as well. Some symptoms may be treatable with a simple prescription, while others could require more involved reconstructive care, such as the placement of a dental implant or a custom-made dental crown. At Canal Side Family Dental, we will focus on providing relief first from serious pain and then create a comprehensive breakdown of further costs and care options so that patients have everything they need to make an informed decision. We will also be happy to file insurance claims and arrange affordable payment plans through CareCredit when needed.