Invisalign® Clear Braces – Buzzards Bay, MA
The Discreet Way to Straighten Teeth
Traditional metal braces are a tried and true method for correcting orthodontic problems. However, many adults shy away from them because they are quite noticeable; they do not always mesh well with a professional image. Invisalign®, on the other hand, is a remarkably discreet treatment. It has the potential to straighten your teeth, correct bad problems, and close unsightly gaps — all without the use of metal brackets and wires.
Why Choose Canal Side for Invisalign®?
1

On-staff orthodontist

2

Affordable payment options available

3

Appointment slots to accommodate your busy lifestyle
How Invisalign® Works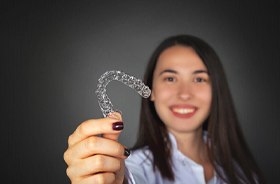 When teeth are exposed to sustained pressure, they move. Invisalign® applies such pressure though the use of a series of custom-made clear aligner trays. The trays are designed to fit your unique oral structures. You wear each tray for about two weeks, for 20 – 22 hours each day, before you graduate to the next one. After you work your way through all of the aligners, your teeth should be in their ideal positions.
Throughout your treatment period, you must visit our office for periodic Invisalign® checkups. At these brief appointments, we will assess the progress of your treatment and provide you with the next few aligners in your series. After your treatment is complete, we will provide you with a retainer to help you keep your teeth in their new positions.
Indications for Invisalign®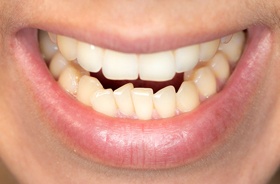 Invisalign® can address a number of orthodontic issues, including:
Crowded Teeth
Spaces Between Teeth
Large gaps between the teeth are unsightly. Invisalign® may be able to close those spaces, thus providing you with more attractive teeth.
Bite Alignment
If your top and bottom teeth do not fit together properly, your misaligned bite can lead to serious issues, including TMJ discomfort and damage to your teeth. In many cases, Invisalign® is able to correct overbite, underbite, and crossbite.
Benefits of Invisalign®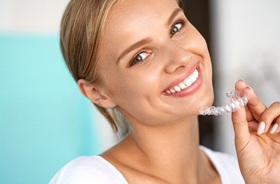 Some of Invisalign's most outstanding benefits include:
Although Invisalign® is not entirely invisible, it is quite discreet. It is unlikely to be the first thing onlookers notice about you.
Because the aligners are removable, Invisalign® allows you to eat and drink practically anything. It also makes brushing and flossing much simpler than it is with traditional braces.
Many patients believe that the aligners are quite comfortable. Plus, there are not metal brackets and wires that might irritate the soft tissues in your mouth or cause an allergic reaction.
Cost of Invisalign®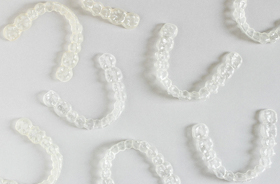 The cost of your Invisalign® treatment will depend on how many aligners you need, your age, and other factors. We invite you to visit us for a consultation, wherein we will be able to provide you with a personalized estimate for the price of your treatment. We are an insurance-friendly practice, and we are always happy to help our patients apply for affordable financing if necessary. Remember, Invisalign® is an investment that could provide you with increased confidence and a lower risk of dental problems.