Implant Dentures — Buzzards Bay, MA
Strong & Long-Lasting Full-Arch Tooth Replacement
According to some estimates, more than 23 million people in the U.S. are missing all of their teeth. Many of them choose to get traditional dentures, but such conventional prosthetics have their drawbacks. Is there a better alternative? Yes! You might be a candidate for implant dentures. This form of strong and long-lasting full-arch tooth replacement has already helped countless patients in Buzzards Bay. It may be able to help you as well. To learn more about it, read this page. Then, contact us to book your consultation.
What Are Implant Dentures?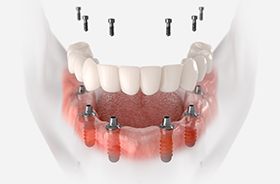 Dental implants are prosthetic tooth roots. When they get inserted beneath the gumline, they bond with the surrounding tissue. They therefore provide an extremely sturdy base for a denture. Implant dentures tend to be incredibly reliable and long-lasting. They feel much more natural than traditional forms of tooth replacement.
Depending on your circumstances, our team might recommend that you get either a fixed implant denture or a removable one.
Fixed/Permanent Implant Dentures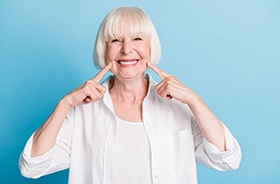 As their name implies, fixed/permanent implant dentures are designed to stay in the mouth 24/7. In fact, they can only be removed with the help of a dental professional. They typically require 4 – 6 implants as support. Many patients choose them because they offer the strongest and most convenient tooth replacement experience.
Removable Implant Dentures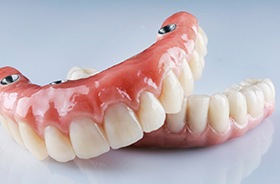 Removable implant dentures are easy for patients to remove on their own; they are secured to their implants via ball- or bar-shaped attachments. They require fewer implant posts than fixed dentures, which makes them suitable for many people who have lost some bone density in their jaw.
The Implant Denture Procedure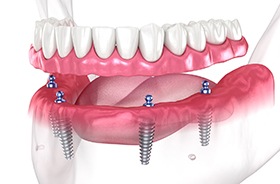 The implant denture procedure may take several months from start to finish. Here are the four basic stages of treatment:
Initial consultation: Our team will determine whether you are a candidate for implant dentures. Some patients require preliminary treatment, such as gum disease therapy or a bone graft, before they can move forward.
Dental implant surgery: We carefully insert the implants into your jawbone.
Osseointegration: The implants bond with the surrounding tissue. Thereafter, you might require a second minor surgery so we can place small connector pieces (called abutments) on top of your implants.
Restoration: You receive your beautiful new teeth.
Am I a Candidate for Implant Dentures?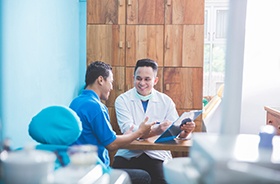 Most people who have suffered extensive tooth loss do qualify for implant dentures, either right away or after some preliminary treatments. This procedure might be right for you if:
You are free of active gum disease and other oral health problems that could interfere with your implants.
Your jawbone is strong enough to support dental implants.
You have good habits that will equip your implants to last for a long time. For example, you should be diligent about oral hygiene.
You are in fair overall health.
Benefits of Combining Dentures & Dental Implants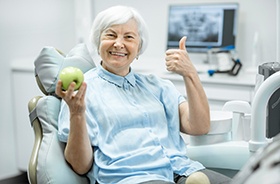 Even though implant dentures take more time and money upfront than their traditional counterparts, they offer many benefits that make them a worthwhile investment:
Dental implants have the potential to last a lifetime.
You should be able to eat virtually any food.
Your implant dentures are likely to feel incredibly comfortable in your mouth.
Jawbone preservation. Dental implants stimulate the jawbone and prevent it from deteriorating.
We carefully design implant dentures so they look as natural as possible.
Easy maintenance. Caring for implant dentures is simple and does not require a lot of time.