Orthodontics – Buzzards Bay, MA
Braces Pave the Way for Improved Oral Health
Throughout the decades, braces have helped millions of individuals to achieve straighter, healthier, and more attractive teeth. This treatment has evolved to become more comfortable and discreet than ever before. At Canal Side Family Dental, we are proud to have an on-staff orthodontist.
Why Choose Canal Side Family Dental for Braces?
1

Experienced on-staff orthodontist

2

Both metal and ceramic braces available

3

Treatment options for patients of practically any age
The Importance of Orthodontic Treatment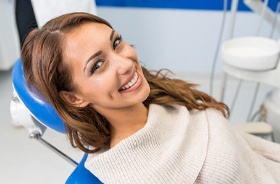 Orthodontic treatment is about much more than enhancing the way teeth look. Patients can experience significant dental health benefits when they straighten their teeth and correct bite problems:
Straight teeth are easier to clean, which can reduce your risk of bad breath and dental decay.
Teeth that fit together properly are less prone to breakage and premature wear and tear.
A well-aligned bite can reduce your risk of developing TMJ disorder, a painful condition that can cause jaw aches, headaches, hearing problems, and other serious symptoms.
Remember, orthodontics is not solely the realm of children and teenagers. If you are an adult, you can experience all of the above benefits after you get braces. There is no need to be ashamed or embarrassed if you visit an orthodontist. In fact, according to some statistics, well over a million adults begin orthodontic treatment each year!
Traditional Metal Braces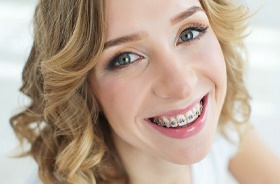 Metal braces consist of brackets that are bonded to the teeth, as well as a thin arch wire that connects the brackets. As the wire periodically gets tightened throughout the treatment period, the teeth gradually move into their proper places. In some cases, extra accessories are necessary to help braces do their job correctly. Metal braces are the most common type of orthodontic treatment, and for good reason. They have been proven effective at correcting the vast majority of bite and dental alignment issues. Many insurance companies even provide coverage for them.
Today's metal braces are smaller and more comfortable than the braces of past generations. Adapting to braces may take some time, but most patients do not find it difficult to adjust their dietary and oral hygiene habits during their treatment. Plus, some children and teenagers even discover a measure of fun in their treatment because they can pick out bright, expressive colors for their brackets.
Ceramic Braces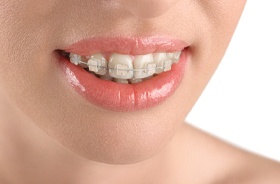 Ceramic braces work on the same principle as metal ones. However, they look quite a bit different. The main appeal of ceramic braces is their subtle appearance. The tooth-colored brackets and discreet wires attract many adults and teenagers who want to undergo orthodontic treatment while drawing as little attention to their braces as possible. Because ceramic braces are a bit more fragile than their metal counterparts, they are usually best for mature patients who will take proper precautions to protect them.
Would you like to learn more about the orthodontic services offered at Canal Side Family Dental? Contact our team today.